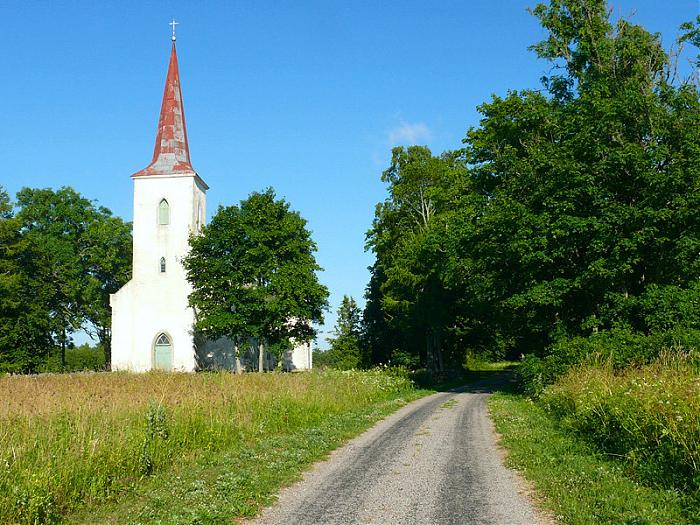 Jämaja church is located on the western shore of Sõrve peninsula, at the 21 kilometer mark on the Kaugatuma - Sääre road.

Although the present reconstruction dates to 1864, there has been a church here since the Middle Ages.

The carvings on the wooden pulpit, as well as the large epitaph in Kärla church, harken back to continuing artistic ties with Lübeck.
It is believed that the finely carved friezes, pilasters and medallions are the work of the school of Tönnies Evers the Younger.

Sten Kaling dates the pulpit to the year 1612 and believes that parts of it originally belonged to the pulpit of St. Lawrence's church in Kuressaare that were saved from the fire that took place there in 1710. By that time, the original dolomite pulpit in Jämaja church was heavily deteriorated.

The remains of the dolomite pulpit were later walled into the church's north wall. There can be seen two coats of arms with acanthus leaf surrounds, two half moons and an arm clad in mail holding a sword.

The dolomite epitaph on the vestibule wall dates to 1625. It is similar to the epitaphs that can be seen in Valjala church and its design and composition liken it to ornamental traditions of the Low Countries during the Renaissance period.

On the north wall there is a dolomite relief that seems to belong to the 16th century, but it is also thought that because of its crude detailing, it actually is a 19th century imitation of a 16th century piece.