Kaarma ring fort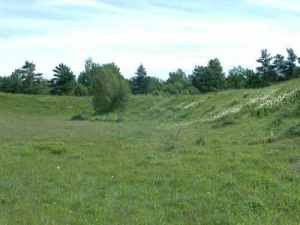 is on the Laadjala - Kaarma - Kajra road, at the six kilometre mark, a hundred meters from Kaarma church.

The fort is surrounded on the north, west and south sides by a 20 to 30 meter wide depression, which at one time was a moat. On the east side there still flows the narrow Linnasoo stream, which in earlier times was a much larger river. The fort's basic structure is almost square (140 meters by 120 meters). The walls surround an area of 4 800 square meters. In the middle there is a depression, the location of the original well.

Archaeological exploration here has been minimal. J.B. Holzmayer did some excavating in 1860. He discovered that the walls were constructed of stones covered with soil.

Henry's Livonian Chronicle, the eyewitness to the 1208-1227 conquest of Estonia, does not mention Kaarma. According to the Early Livonian Rhymed Chronicle, Kaarma was the main stronghold during the 1260-126l uprisings, when Saarlanders sought refuge here from the combined forces of the Riga Bishop, the Tallinn masters, Tartu Bishop and the Saare-Lääne Bishop.

Enemy forces pillaged the land, the smoke from the burning villages covered the entire island. Hag Carmele, as the fort is known in the Chronicles, was defended against the enemy in a long and bloody battle.

The site of the battle is east of the fort, between Kaarma school and Uduvere village. This area has yielded many archaeological finds, including many arms such as arrowheads and speartips. Needless to say, the peasant defenders did not have much chance against such overwhelming odds. The fort was conquered and it took the conquerors two days and two nights to carry away the belongings and drive away the herds that had sought refuge in the fort.