Koigi bog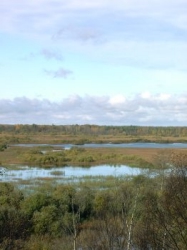 Koigi mire and bog covers an area of 3 980 hectares and it is the largest such nature preserve in the Estonian islands. Nature here is varied and interesting, many unique and rare plants have made their home here. 35 different plant families have been identified in the meadow areas, 1/5 of the area is covered by bogforest, but the mires make up the largest areas. There the peat reaches a thickness of 3 to 4.5 meters.

There are also four lakes: Koigi - 178 hectares, Pikk (Long Lake) - 23 hectares, Ümar (Round Lake) - 10 hectares and Naistejärv (Women's Lake). The last one was created from women's tears, including the tears of Piret, the wife of Suur Tõll, Saaremaa's folk here. No doubt all of them had something to cry over. Koigi Lake developed as a result of a fight between the masters of Kareda and Koigi manors. There is supposed to be an entire manor at the bottom of that lake.

Koigi mire is an important sweet water reserve located in almost untouched nature. The water reserve is important to the ground water that serves Eastern Saaremaa. Here are also examples of all the different types of bogs and mires and swamps, which make this area important in the study of how mires and bogs develop in Western Estonia.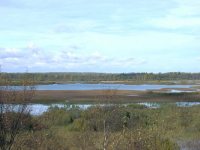 There are several metal plank trails that cover the mire and give easy access to the bogs and mires without getting one's feet wet. There are also three viewing towers, at heights of 4, 7 and 10 meters.

The mire is also an important bird sanctuary. The storks use the bogs to nest and as stopovers during their annual migrations. Many other types of waterbirds can be seen here.