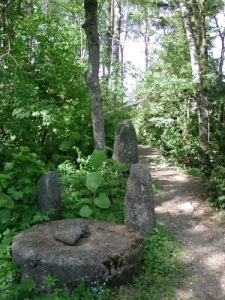 Neemi village dendrarium

In 1925 the Neemi village smith, Mihkel Rand, began to create a garden. The idea of a garden on a 4 hectare outcrop of limestone seemed ludicrous, but his single-mindedness and love of nature have indeed created a garden. Thirty years of work have resulted in a collection of over 100 trees and bushes.

The ensuing 30 years consisted of hauling thousands of cartloads of soil onto his limestone outcrop. To acquire his seedlings, Mihkel Rand visited most of Saaremaa's parks and gardens, with additional trips to Tartu, Tallinn, and Viljandi. He constructed a wind-powered pump that was able to water his entire garden in 15 minutes.

The various types of trees and bushes are arranged into groups and allées, as well as single plantings. There is an oval pool in the garden; there are massive oak benches and unique rocks. And of course there are many rare and unique species of trees and bushes.