Püha St. Jacob's church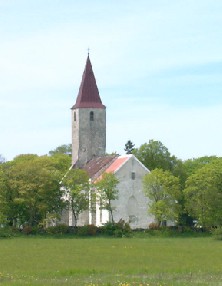 In comparison with the other churches of Saaremaa, the church of Püha tends to go relatively unnoticed. Even in art history it receives little mention. The reason, however, is not a lack of artistic value, but the fact that after the great fire of the Livonian War the church was covered with a thick layer of plaster; as a result less is known of its architectural history than of the other churches of Saaremaa. Nevertheless, Püha church is an especially interesting source of material in the observation of changes that take place in the process of architectural thinking over the years.

Similarly to Kaarma church, and apparently in direct imitation of it, the vestry was the first part to be erected. Then the choir was built and the nave designed. The latter was slightly narrower than the present one. The change in socle profile confirms that another master built the choir. It is possible that the congregation had to be content with a provisional wooden construction at first. The stone nave with a bracket turret on the western gable (the remains of which can be seen in the present-day tower) was built somewhat later than the choir.

The church appears to have been vaulted in the second half of the l4th century. The western tower is believed to have been added around 1500. A fireplace in the tower suggests that the church also served as a refuge. The church of Püha is the only church in Estonia on which information can be found in historical records: in 1576, during the Livonian War, the church was burnt by Russian troops after peasants sought refuge in the loft and the tower.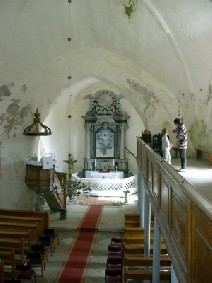 Interior
The original decorative details of the church were severely damaged, apparently in the great fire of the Livonian War. The damage was later repaired using plaster. The rib vaults of the nave and the choir are similar in form. They are of late Gothic style and are reminiscent of the vaults of Kuressaare castle and the apse of Valjala church. Not surprisingly, none of the earlier furnishings have survived. Besides the Baroque altar, one of the most valuable furnishings here is the pulpit with its predominantly neoclassical forms (for example, the urn that crowns the sounding board) dating from 1793.

The altarpiece
The Kuressaare master, Gottfried Böhme, made the altarpiece of Püha church, decorated with rococo elements, in 1793. Compositionally it is an almost exact copy of the altarpiece of Riga Cathedral, which was framed with two projecting pillars and a heavy entablature with a headpiece. The clumsily carved figures of cherubs and angels on the upper part of the altarpiece betray the carpenter's poor sculpting skills. The painting The Ascension is a later addition to the altar, and according to tradition was made by Ludwig von Sass, a tenant of the Ilpla estate.