Based on archaeological findings,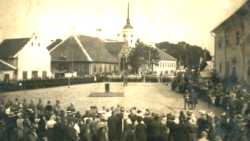 it has been possible to say that human settlements existed in Saaremaa already 8 thousand years ago.
Due to the favorable climate and geographic isolation, Saaremaa was one of the most densely populated areas in Estonia in the early part of the millennium.
After the end of the Ancient Freedom Competition (1208-1227) and the surrender to the crusaders, Saaremaa and its islands have been under the power of several rulers:
1227 to the 16th century. the middle of the bishopric of Saare-Lääne and the Order of the Livonians (at first Swords)
16th century mid-1645 - Kingdom of Denmark
1645 to 1710 - Kingdom of Sweden
1710 to 1917 - Russia
1917 oct. until 1918 Nov - German occupation
1918-1940 Republic of Estonia
1940s In June, Saaremaa was occupied by Soviet forces throughout Estonia and was incorporated into the Soviet Union in August, which belonged until 1991. August 20, the re-establishment of the Republic of Estonia.
Throughout the ages, the main activities of the inhabitants of Saare County have been agriculture, fishing and shipping.
Significant events in the development of the region were the establishment of a ship connection with St. Petersburg and Riga (1858), the opening of the ferry line between the mainland and Muhu (1888), the opening of the dam between Saaremaa and Muhumaa (1896).
In the beginning of the 20th century, approximately 60 000 inhabitants lived in Saare County, 4000 of them in the city of Kuressaare. As the countryside was overcrowded, many islanders sought to work on the mainland or migrated to other countries.
The turn of the century, and especially the Republic of Estonia, brought about the revival of the island's economic life: joint activities developed (the formation of savings and loan companies, consumer cooperatives). Rapid development took place in education and culture: many new schools were opened. In the thirties there were 80 primary schools and one upper secondary school in Saaremaa. The Kuressaare Maritime School, the Industrial School, the Kõljala Agricultural School and the Karje Home Culture School functioned.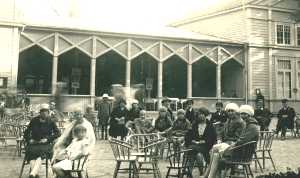 Before World War II there were about 10 thousand farms in Saaremaa, the most important industry was dairy farming. Tourism (gatherers) was also an important destination, which was mainly developed in the city of Kuressaare thanks to the local pharmacy and the resort. Also, small enterprises processing local raw materials (building materials production, etc.) also acted.
Due to World War II, repressions carried out and the escape of the West, the county's population declined by about 20,000 inhabitants. The further decline in population continued only in the mid-1980s. During the postwar period, due to the great centralization, the development of the islands was slowed down, many young people settled outside the county, several small country schools were lost, and so on. institutions.